Our new flat roofing installations are guaranteed for 20 years
---
Our experienced team at The Roofing Company have the expertise and the knowledge to be able to offer you 3 different types of flat roofing systems that are available on today's market:
FELT, 10 year guarantee
EPDM FIRESTONE, 20 year guarantee
GRP FIBERGLASS, 25 year guarantee
So, which one is going to be best for your property? Let us explain the differences.
---
Felt Flat Roofs
The traditional Felt Flat Roofing System has moved a long way since its original inception and so have the skills necessary to do a good job. We are working closely with the ICOPAL group, installing their new felting systems which are supported by the manufacturer's warranty.
These systems have the advantage of a traditional mineral finish, are rot proof and extremely flexible, giving long life and largely a maintenance free future.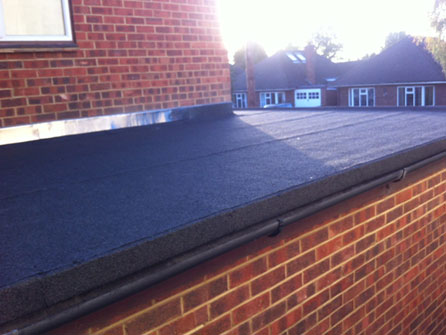 ---
EPDM Firestone Roofs
The Firestone RubberCoverTM EPDM Roofing System is the ideal, durable solution for a multitude of small residential flat roofing applications such as:
Extensions
Verandas
Dormers
Porches
Garages
Car ports
Garden sheds
Balconies
Valleys
Trailers
Our team can install Firestone RubberCoverTM EPDM membranes on both new and existing roofs (as long as the existing roof decking is sound and the existing structure can carry the load of the new roofing system).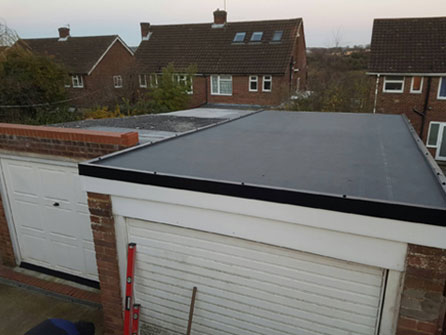 ---
GRP Fiberglass Flat Roofs
GRP stands for Glass Reinforced Polyester and is also known as Glass-Fibre. This system is applied cold on site, giving it a seamless and flexible weatherproof finish that resists water, heat and frost. The finished roof gives a strong architectural finish that looks very impressive. If maintained properly it will last as long as the building stands.
The technology is built to produce the perfect all weather protection for any flat roof. GRP can be applied in small domestic situations right through to large industrial environments.
Here are a few benefits of choosing a GRP Fiberglass Roofing System:
Advanced roofing solution that far exceeds traditional methods
Highly economical solution
Fire retardant
Virtually maintenance free for long periods of time
Very durable, resists heavy foot traffic
Impact resistant due to ultra hard finish
Non-slip walkways can be incorporated
Applied cold, no heat is required
Easy to form around complex situations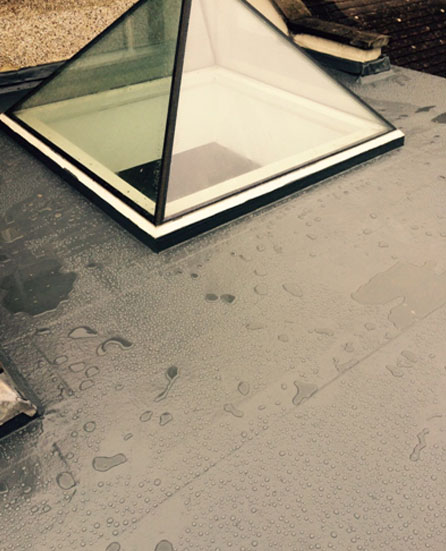 ---
Debotec Flat Roofing Systems – Torch Applied
The Roofer Company can carry out temporary repairs to your existing flat roof or we can install a completely new flat roof using the latest materials that offer enhanced durability and a longer life.
New Debotec Flat Roofing installations come with a 20 year guarantee.
Debotec Flat Roofing Systems provide a number of solutions for refurbishment and new roofing projects. The Debotec three layer system is made up of three layers using universal venting/perforated layers, glass fibre base sheets intermediate layers followed by final capping layers.
The Debotec Laser Gold System we use has a life expectancy of up to 40 years and is guaranteed for 20 years, using high tensile polyester re-enforcements with low melt SBS bitumen modifications.
When using felt and hot bitumen, The Roofer Company complies with all legislation and health and safety regulations and is fully insured for your peace of mind.
---
If you are still undecided as to which roofing system is best for your residential or commercial property, then seek the expertise of our experienced team here at The Roofing Company. We have over 20 years of knowledge in installing new flat roofs.
Call us today to talk to us about our flat roofing systems and for a free no obligation quotation on either Berkshire 01753 437996 or London 020 8528 2997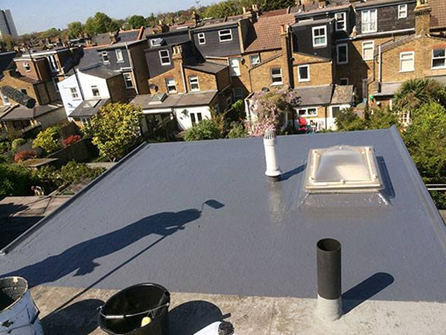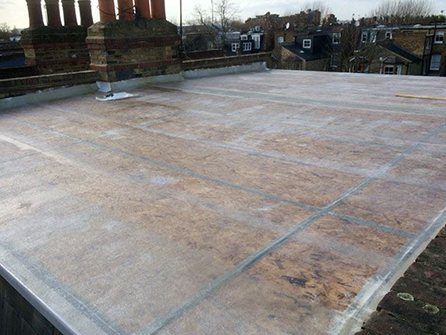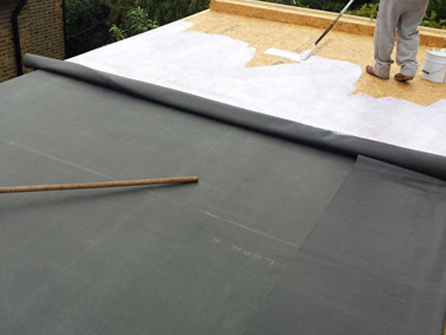 We can install and repair flat roofing on a variety of buildings and properties including:
Garages
Extensions
Porches
Summerhouses
Sheds
Pavilions
---
Fascia, ventilated soffits, replace gutters, ventilation tiles in loft, repaired chimney pot, new resin cover on flat roof
Mark was extremely courteous and detailed. He explained each bit of the work being carried out. From having spoken to him, you can see that he really enjoys the work. He was true to his word on price (no hidden extras) and his team cleared everything away when complete. The company were busy, but when they scheduled us in, they stuck to the agreed dates and times. Excellent work, I highly recommend this company.